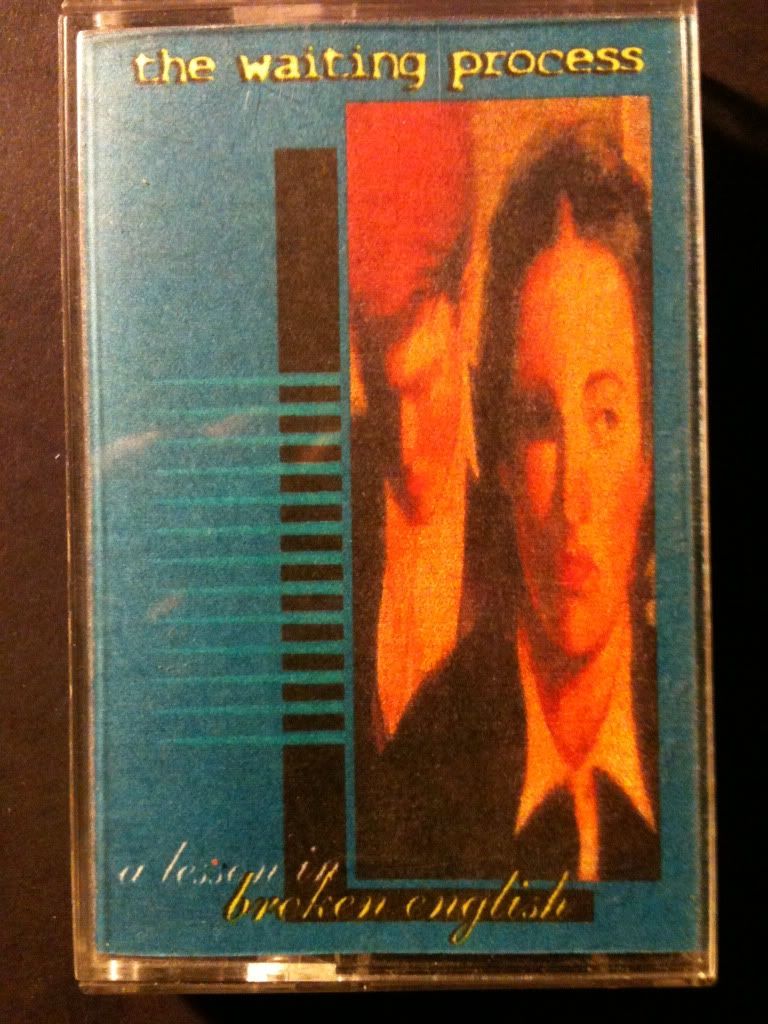 There was a time when bands that sounded like The Get Up Kids didn't flat out annoy me and a band of that ilk that I happened to enjoy very much so was The Waiting Process. I happened to see their first show at the Rock Lobster back with their original singer and by the time I contacted them a couple of months later about coming out to eastern Long Island to play a show I was booking at the MOD Center with On the Might of Princes and my old band they had already got a new singer. Gone was the endearing heart on the sleeve kind of mid paced emo that I saw them play at their first show but in its place was a more upbeat and energetic brand of poppy Get Up Kids emo. And you know what I preferred it. In addition to bringing the new sound with them to the show they also brought these sweet looking, shrink wrapped cassettes called
A Lesson In Broken English
which I nabbed and am now sharing with all of you. I haven't looked at this cassette much less listen to it in a long, long time but I never released how much the cover art looks like Knapsack's
Day Three of My New Life,
aesthetically speaking that is. That aside-in listening to this cassette for the first time in a long time I do have to say while it is dated in the late 90s Long Island emo sound I find myself still loving the parts I used to love when this tape got a lot of play on my tape deck. The song "September Fading" found its way onto a lot of mix tapes I made back in the late 90s especially when making tapes for pen pals when I was trying to send friends abroad a taste of Long Island.
I booked The Waiting Process a few times and they even gave me the tune "Something Bigger Than The Both of Us" for
The Hope Machine
compilation. On the cd-r they gave me with that song there were a few other new tunes and I am not sure if those were ever released. I need to check and see if still have that cd-r and if so I'll be happy to upload those tunes. Eventually the band broke up and I do know that the guitarist Derrick played in The Reunion Show and is currently playing with Sainthood Reps. I recently ran into Christopher, the vocalist who appears on all of the Waiting Process releases, and while he didn't speak of any music projects he did inform me that he is working on a graphic novel. And being a comic nerd I am pretty stoked to hear that and eventually check that out.
By the way ever wonder where Taking Back Sunday got the name of their band? Check the track listing out...
The Waiting Process
A Lesson in Broken English
track listing
1. Skyline Drive
2. September Fading
3. A Lesson in Broken English (All and Every Word)
4. Paula's Song
5. Taking Back Sunday
The Hope Machine
compilation
"Something Bigger Than the Both of Us"
Download Here