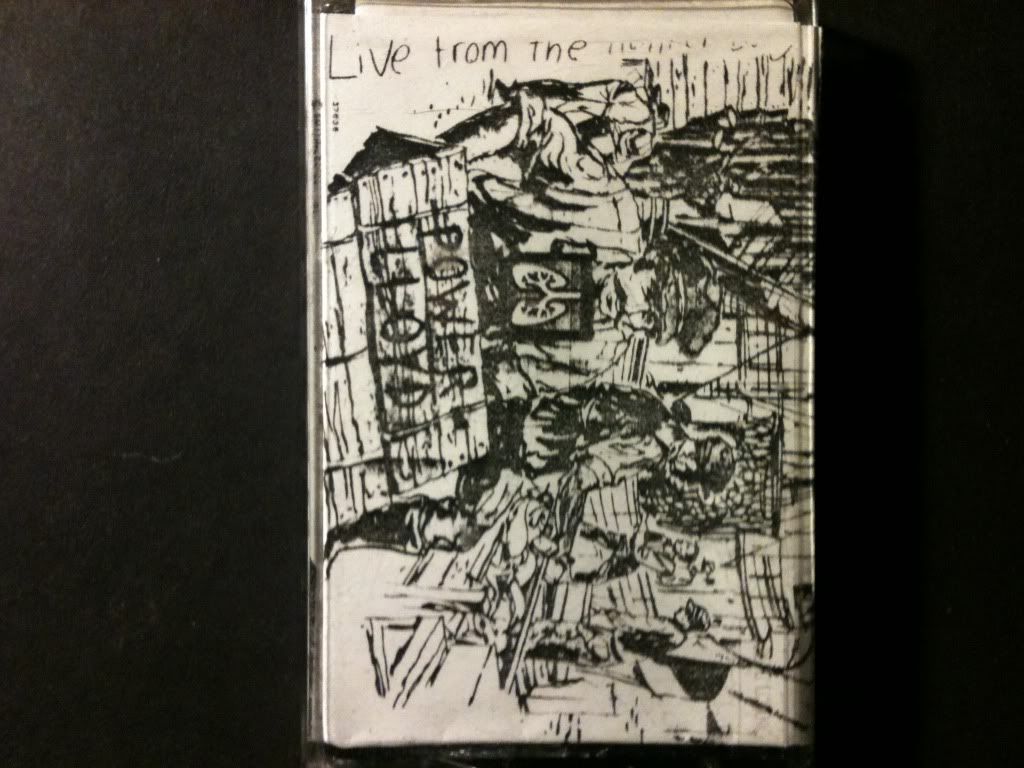 Here is a rare slice of eastern Long Island tuneage courtesy of lo fi collage/noise pop trio Power-Lloyd. And God help you if you forget the damn hyphen! I am not sure if it was the water we drank, growing up near a nuclear power plant that never opened or just digging on the finest fuzz box happy indie/alternative rock that the 90s had to offer that caused a bunch of the bands in eastern Long Island to make so much darn noise in the late 90s/early 2000s. Armed with a four track (my old Fostex I believe) and a lineup of instruments that defy convention (seriously seeing Mark Gill play a vacuum cleaner is one of the best things I have ever seen) Power-Lloyd played lo fi collage/noise pop that was just the sound of three friends having a good time. No pretentions or anything like that. Like I said just three friends getting in front of a 4 track and saying "Go". What came out was a mystery to even them I presume much less listeners. But for you folks who need reference points to click "download here" to put things simply Power-Lloyd reminds me of a combination of the snippets of sound collage on Olivia Tremor Control records, Beck's
Stereopathetic Soul Manure,
Edith Presler and God is My Co-Pilot. In addition to jangly guitar chords, bass, and vocals added to the arsenal of sound were various children's toys that produced sounds, drum machine, various percussion, whistles, and various sound makers. Oh yeah did I mention a vacuum? I did but I like that so much that I'll mention it again.
Power-Lloyd consisted of Jason Cassara, who collaborated with me on the Stars Are Insane album
Justin Age 8
and Chris Grant and Mark Gill both of whom were in my first band Pale Marble Movie. Gill was briefly the bassist of Prescott C and recorded the
Low Flying Planes EP
with them. Anyhow back to Power-Lloyd... They recorded their lone release which was packaged in a fun grab bag of goodies (which I have lost. Shame on me...)
Live From Bluffington; Live From the Honker Burger
for the most part on 4 track in various spaces in the Rocky Point/Shoreham area but two tracks I believe were recorded at the North Shore Public Library from the same show that Stars Are Insane performed. (See this
post
to download the Stars Are Insane set if you missed it.) And if you are wondering if
Live From Bluffington; Live From the Honker Burger
is a
Doug
reference, the answer is most certainly yes. In fact check out Power-Lloyd's re-imagining of The Beets' "One Little Voice" for further
Doug
references.
Power-Lloyd were a ton of fun the few times they played and so is
Live From Bluffington; Live From the Honker Burger
. Anyhow Power-Lloyd certainly isn't for everyone because quite simply most people don't know how to have fun. Somehow I have to convince Mark to make a guest appearance playing some vacuum on the next Stars Are Insane album...
Power-Lloyd
Live From Bluffington; Live From the Honker Burger
track listing
1. Jelly Belly Blues
2. Israeli Sub Machine Gun
3. Math Camp
4. Vegetable Bitch (A Chorus of Boris)
5. One Little Voice
6. Upwelling
Download Here