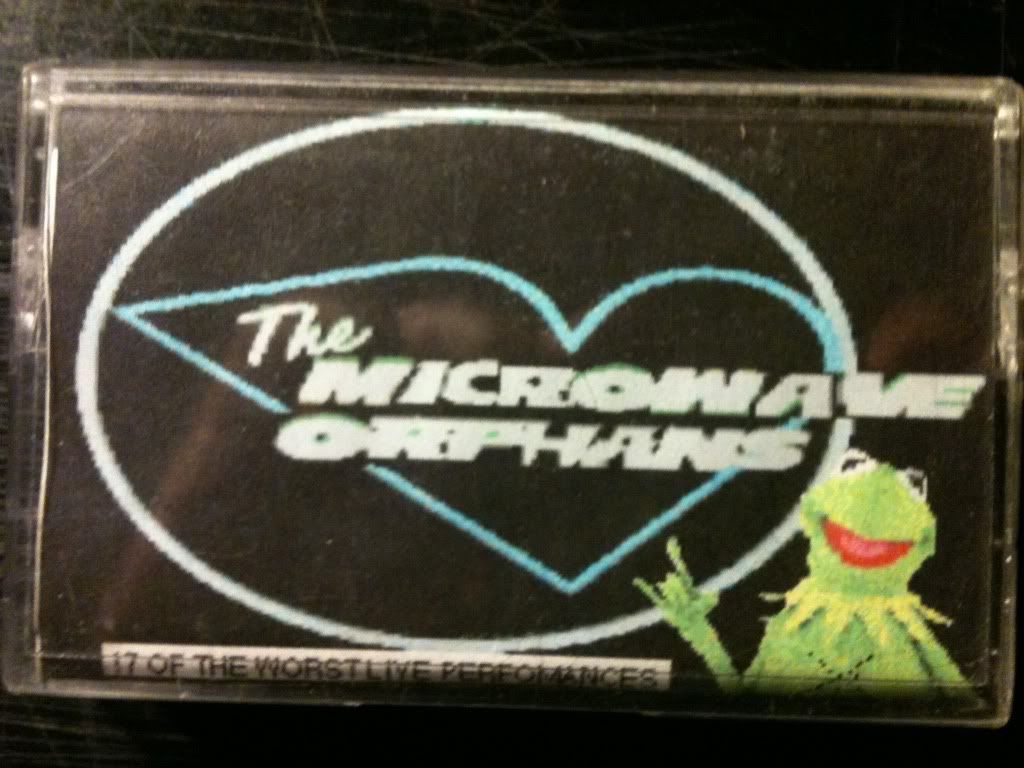 This one was a bit challenging to rip considering how everything was haphazardly sequenced together so I do hope I that charm comes through digitally. Personally I love the presentation of this live tape as it has that old school "bootleg" quality. I have mentioned Microwave Orphans before in various posts I have made about Eiffel Trousers Records, the awesome label run by the MxOx's front man Matt Roren, but this is the first release I have been able to upload of theirs. I am not sure how Matt or the band or anyone else feels about this but personally I feel this is the best way to introduce folks to what The Microwave Orphans were all about. Their more proper releases while chock full of excellent pop punk/new wave tunes I never felt those releases were successful in conveying to listeners anywhere the same off the cuff, zany experience that were the band's live shows. Recordings in a studio just can't capture that. Their songs weren't math rock it was just simple fun punk but every time you saw them it was a different experience. I mean the only constant was that Matt would usually strip down to his tight whiteys...I must've seen them play the same ten songs for about a year straight and I never once minded because it was so much fun.
Musically speaking The Microwave Orphans played a mixture of pop punk 'ala Vandals and Nofx mixed with stuff like Devo, The Dead Milkmen and Modern Lovers (bands they all covered too!) crossed with the unpredictable stage antics of the Butthole Surfers.
Precise Microwave Orphans Order: 17 of the Worst Performances
chronicles various live performances many from former Long Island DIY show spots long gone from the years 1997-1998 and the title is rather misleading. Yes, there is chaos and tom foolery in abundance but I think this tape does an outstanding job of documenting one of the most entertaining live bands Long Island has ever had.
The Microwave Orphans issued several tapes and few cds all under the Eiffel Trousers Records label as well as bunch of compilation appearances. Since their break up Matt Roren went on to sing for The Reprecussions as well as Lord Humongous in addition to his own solo project The Matt Roren Karaoke Experience which relived some the off the wall, humorous entertainment that fans came to expect with The Microwave Orphans. The original bassist of Yes Sensei, Paul Como played in the band. Come to think of it Andre Bermudez (also a Yes Sensei alumni as well as Space Robot Scientists and Freaks From the Apocalypse) held down low end for the band for a spell. There were many members over the years in the band that it almost gives Guided By Voices a run for their money.
The Microwave Orphans
Precise Microwave Orphans Order: 17 of the Worst Performances
track listing
1. intro
2. Happy Girl (Massapequa Bowl 5/23/97)
3. Hornswaggled (Dr Shay's 11/1/97)
4. Artie (Rocky Point VFW 1/26/97)
5. Backpack (Dr Shay's 5/18/97)
6. Amy's On Crack (Dr Shay's 10/19/97)
7. The Beach Song (Dead Milkmen) (?? 7/14/97)
8. I Wanna Be a Homo Sexual (Screeching Weasel) (Dr Shay's 4/13/97)
9. Talkshows and Broken Hearts (Matt's Living Room 7/19/97)
10. Artie (Gille's Backyard 6/14/97)
11. Railroad Love (Rock Lobster 4/4/98)
12. Jenny (Fabulous Jacks 4/5/98)
13. Imperial March/Busted Amps and Broken Strings (Massapequa Bowl 5/31/98)
14. Da Crack Haus Jam-Da Funk/Gimme Gimme Gimme (Black Flag)/Theme to a Spy Movie That Doesn't Exist/Vegan sXe Warrior (Crack Haus 7/3/98)
15. Freedom of Choice (Devo) (Josh's Basement 7/4/98)
16. Night of the Living Dead (Da Funky Fish 7/5/98)
17. The Time Warp (Richard O'Brien) (Mod Center 10/31/98)
18. Brisket (Huntington Knights of Columbus 5/29/98)
Download Here