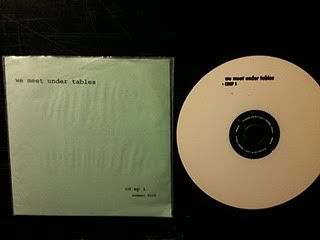 Today's entry is bit more current than some of the other things I have been posting but just as awesome, obscure and bit too short lived. Music lovers I present to you We Meet Under Tables! Coming out of nowhere it seemed We Meet Under Tables first came to my attention one summer when I was given the duty to find bands the fill the summer schedule at Cedar Beach's for the teen band nights that were going Thursday to Saturday nights from July to August. Trust me that was a harder task than one would ever expect, so finally all of those countless Myspace band friend requests were finally coming in handy. And one of those bands who happened to find like a diamond in the rough was We Meet Under Tables. The band immediately jumped out at me with their frantic rhythms, percussive centric, noisy guitars and a dual vocal assault. Sonically it was a cross between Fugazi, Lungfish, Wire, and Gang of Four which was just music to my ears especially since my band Yes Sensei was looking for other like minded bands to play with because at that time a lot of the bands we had a creative kinship with had broken up or moved on. I hooked them up with a show and started talking to the band about more shows and even eventually trying to coerce them into letting me release some of their music.
The band consisted of Ryan Blecher on guitar/vocals, Mitch Hansen on bass/vocals and Caryn Koza on guitar/vocals and rotating cast of drummers which included Blecher himself also taking on drum duties on the recording of the ep which I present here. At one point they recruited one time Yes Sensei drummer Dave Elliott and later Cheeky/Eachother's Mothers drummer/Little Lungs guitartist/vocalist Angie Boylan. Ironically, Blecher went on to replace Elliott as the drummer for Yes Sensei. Got all that? Despite all the shifting around We Meet Under Tables created quit a racket for a couple of years there. Their live shows were high energy, raucous events they were greeted with members tossing and flailing around on stage. I do believe blood was involved more than once... With Elliott at the drum helm the band recorded and released a second ep cd-r. And then at some point during the lineup with Boylan on drums material was being worked on for a split 7 inch with Yes Sensei but by the time to record the band fizzled away, which was a shame. And as far as I know they never recorded anything with Boylan on drums.
After We Meet Under Tables Ryan Blecher played drums in Yes Sensei, Fellow Project, Firing Squad, Kenwu as well as recording solo material (playing all instruments) under the name BigR. Mitch Hansen joined up with Blecher to once again assume the bass and vocal role in Firing Squad. I don't believe Caryn Koza has been involved with a band since We Meet Under Tables parted ways. At some point shall upload the second ep. In the meantime enjoy this first ep.
We Meet Under Tables "CD EP 1-Summer 2005" cd-r track listing:
1. "Shipwreck, Sir!"
2. "Wires to Wires"
3. "Good Laws"
4. "On the Front"
5. "Words"
6. "Opposition"
Download Here