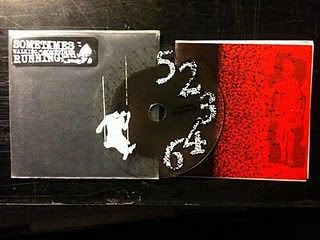 After a few days rest I am back at and today's upload comes from Sometimes Walking Sometimes Running, who were previously mentioned when I uploaded their post SWSR project Scent of Human History. If you dug the Scent of Human History material then chances are that you'll enjoy the
5 Untitled Songs
cdep that Sometimes Walking Sometimes Running released on the seminal Long Island DIY label Traffic Violation back in 2000. Where Scent of Human History was a bit droning and epic, Sometimes Walking Sometimes Running was more of chaotic short blasts of screamo fury. Stylistically, SWSR (as I shall refer to them from here on out in this entry) cherry picked all of the finest elements of the top screamo/emo bands of that time period- Pg.99, Yaphet Kotto, Saetia, Reversal of Man, etc, all while putting their own stamp on the genre. And as I stated previously, this type of music was just nowhere to be found outside of these group of friends and maybe a few others, like The Life of Crime (As a side note- if anyone has any The Life of Crime stuff please send it my way. I think they recorded a demo) and SWSR certainly made the most of creating music in scene that seemed completely hypnotized by music that was solely melodic in nature. They certainly stood out but their chaotic, visceral brand of music resulted in truly raw performances that were unlike what most of their peers offered as far a "stage presence". I mean just watch the segment on the
Between Resistance and Community
documentary where SWSR absolutely tear shit up in the generator show segment...oh boy it always gives me chills.
Not only were SWSR quite the chaotic song smiths, most (if not all) of the members were gifted artists visually. I remember vividly when I was first introduced to these guys I was simply awestruck by the artwork on their show flyers and even more so the creative zines that they'd distribute at shows. I remember get a stack of them (which I still own) from a show at the Vargas House and I was just really impressed with how their strong sense of visual aesthetic tied into the aura of their music, it all tied together nicely. And that is one thing I will definitely say about most Long Island bands, the artwork/packaging/visual aesthetic for the most part up until that point was so beyond bland. SWSR were definitely on the opposite side of the spectrum. And it was never more evident until the
5 Untitled Songs
cdep came out. Everything about the packaging and artwork was just beautiful. There wasn't a release at that time that could even hold a candle to
5 Untitled Songs
in regards to visual presentation.
SWSR eventually broke up, where three of the four members formed Scent of Human History. In their short history as far as I am aware of all they released was
5 Untitled Songs
cdep and a split 7 inch with The Insurgent, which was also on Traffic Violation Records. I do believe a demo tape was released but I am not 100% on that. If anyone can confirm or deny that as well as share it, that would be greatly appreciated.
Sometimes Walking Sometimes Running
5 Untitled Songs
track listing
1."Sweet Advice From a Jailbird"
2. "I Guess The Best Thing to Do is Laugh Out Loud"
3. "Baroque"
4. "Welcome to 4AM"
5. "This Linear Engagement"
Download Here