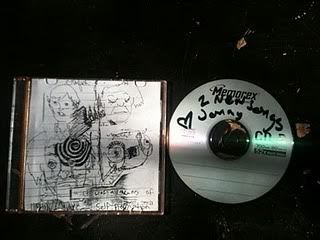 Soon after the break up of Book Store bassist/vocalist Jon Kaplan starting turning up at various shows performing solo with a creative mixture of new indie pop/rock songs and spoken word, which proved to be just the right spontaneous flare that made Kaplan's performances not only entertaining but set them apart from the usual singer/songwriter fare.Usually when you see a guy with just a guitar and microphone before a note even is played, or a vocal is sung people generally know what to expect, and if people ever had that idea about a Jon K performance it was evaporated within seconds. Sometimes Kaplan wouldn't even play a song, as it would just be spoken word or some type of performance art. I saw a show once where he came straight from his shift as a waiter and the note pad in which customers orders were on turned into a free form spoken word frenzy that was insanely funny and entertaining. No matter what, it was always very spur of the moment and very real.
But for sake of discussion in this blog I shall now shift the focus to the music end of what Jon K did. On all of the Book Store recordings Kaplan's tunes were sincere yet fragile, tug at your heart strings kind of indie pop songs. And while not to take anything away from Book Store or the band's principal songwriter, Dan Fucello, you kind of always hoped that Kaplan would unleash an album of his own. At least that is how I felt because songs like "The Aquarium Song", "Best Wishes" and the amazing "We Won't Be Here Forever" were three of the greatest indie rock/pop songs I'd ever heard. Seriously. There is just a magic in his song writing ability that you very seldom come across in songwriters and maybe there is a element of bias because we are such good friends. But still I am friends with plenty of great dudes who are in not so great bands. Bottom line- great music is great music and it doesn't matter if a friend or stranger wrote it. There are several interesting things about Kaplan's songwriting abilities, one is the ability to encapsulate elements of the history of rock/pop music by cherry picking various snippets if you will from The Beatles, The Jackson 5, Miles Davis, REM, Gang of Four, Nirvana, Built to Spill and heck even various hip hop. From a songwriting stand point, one thing that can't ignored is that Kaplan in his solo work was a bassist turned guitarist and I think as a result the songs really groove. And groove isn't necessarily something you would associate with indie rock. His guitar playing is almost percussive and jagged at times as opposed to just straight strumming.
As far as the tunes we have here, in late 2003 Kaplan recorded three of the songs that were included in his set at the time to record a 2 song demo that included the tunes "I Can't Complain" and "Off Yr Radar", the latter of which was included on The Tone Library's "No Nucleus" compilation cd. The third track "Paper Airplanes" was later released along with the other two songs as well as an assortment of Kaplan's spoken word recordings and his songs from the Book Store releases for Jon K compilation of sorts titled
Aquarium Single.
Today's upload includes the 3 songs from that 2003 recording session and seriously they are absolutely with a doubt indie rock perfected. If you enjoyed the Built to Spill meets Dinosaur Jr sounding song "We Won't Be Here Forever" off of the last Book Store ep "Hello From Book Store" then you will absolutely love this group of songs, as they are in the same vein.
I am divided because on one hand I am bummed that Jon never recorded another batch of pop songs like this but on the other hand I appreciate that because he has always grown and evolved as an artist and musician. If that isn't a sign of a true artist I don't know what is. After his stint of solo shows he started recording truly unique almost psychedelic pop music in the creative collective Destructasaurus Rex, whom I had the great honor of releasing their first album (and hopefully I'll release more in the future)
100% Mad Indie Rock Flava
which can be streamed here at
Bandcamp
. Currently Kaplan is focusing on his improv theater work and graphic design, as well as recently making a few contributions to my latest Stars Are Insane album.
Jon K "Demo" + track listing
1. "Paper Airplanes"
2. "I Can't Complain"
3. "Off Yr Radar"
Download Now