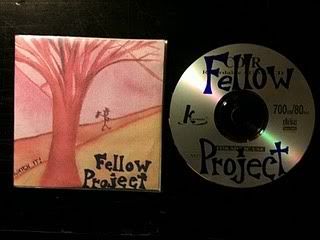 Unlike most of the bands I have posted so far, Fellow Project is still together and releasing one excellent record after another. Fellow Project originally started as a off shoot project from the Porcelain Decay to showcase the more folk/indie interests of guitarist Joe Jerkens and bassist Tia Meilinger. They recruited Adam Kuhn from Grid Iron/Fuck Cops and later Small Arms Dealer to play drums and quickly they started playing shows. And quickly they became one of my favorite bands to ever come from Long Island. Their songs were catchy, had great lyrics and there was that sing along type of energy without being juvenile. In their original three piece lineup the recorded three full length albums and the one I am sharing with you here today is their first album called
Watch It!
which was a self released cd-r. For my money Fellow Project have always been a real treat as they were so opposite of what every other band on the Island was doing. I mean Jerkens would rock out using an electric acoustic dobro! And maybe I am off my rocker but I truly sensed that there was/is a deep appreciation within the band of music that just isn't contemporary. Perhaps that is why they have stuck around for so long and why subsequently their fans have stuck around for the ride. Their songs resonate beyond any sort of temporary fad or trend, which is what happens when your music has roots. Sadly, I think Fellow Project tend to get lumped in with unfortunate folk punk movement of the early 2000s-speaking of fads.
Over the years Fellow Project have evolved so much sonically that their current incarnation bares very little resemblance to those humble, "folky" beginnings. The current lineup which includes Ryan Blecher (Yes Sensei/We Meet Under Tables/Firing Squad) on drums and Lou Fontana on guitar (On the Might of Princes, Small Arms Dealer, God's Gift to Women) has the band doing a more of post punk sound that resembles a cross between The Grifters, and Cursive. I also detect hints of Lou Reed, Bingo Trappers, Television and The Feelies in Fellow Project's music.
Watch It!
and the following two albums were more rooted in the folk rock spectrum then their current recordings so it may take current fans by surprise but that doesn't mean the songs aren't as kick ass as their more current full on rock motif. I strongly feel that especially the first two albums have slipped away from most people's memory banks though maybe it would help if the band started playing these songs again (HINT! HINT!)
I have often said that Fellow Project are Long Island's most prolific band and here by listing their discography you can see for yourselves. Perhaps I am missing a compilation or two. And if anyone is interested a few of their releases in my distro including the
Boots
7 inch which I released. Get into it. www.roklokrecords.com
discography:
-
Watch It!
cd-r (self released)
-
If We Were Mariachis
cd-r (Burn It Down/Rebuild)
-
Where's the Wire?
10 inch/cd-r* (Make or Break Records) *has bonus track
-
No Nucleus
cd compilation (The Tone Library)
-
Dead Broke Tape Comp: Volume 1
cassette compilation (Dead Broke Records)
-
4 Way Split Series: Volume 1
7 inch compilation (Dead Broke Records)
-
Dead Broke Tape Comp: Volume 2
cassette compilation (Dead Broke Records)
-
The Buried Life
cd (Dead Broke Records)
-
split w/ Jonesin'
7 inch (Kiss of Death)
-
split w/ Thousandaires
7 inch (Kiss of Death)
-
Boots
7 inch (Rok Lok Records)
-
split w/ Go Sell Drugs
7 inch (Kiss of Death)
-
Life on a Island: Summer Compilation #2
cassette (Life on a Island)
Fellow Project
Watch It!
track listing
1. "A Jolly Good Thing"
2. "Uncle Joe"
3. "What's the Matter"
4. "Silence is a B Flat"
5. "Tired Themes for Sorry People"
6. "Interlude in the Key of Housed"
7. "White Trees & Broken Bones"
8. "Ruthless"
9. "Papllon"
10. "My Way vs Your Way Means the Highway"
11. "Sample"
12. "Untitled" (track is unlisted on sleeve)
Download Here