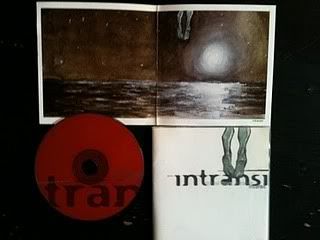 It is Friday and there is a lot to do but still I would like make a quick post about this excellent 4 song ep by Intransit. This fairly short lived band went on to be splintered off into This Year's Model, Bravado and Come Down but not before releasing an excellent demo tape and the 4 song ep which I am happy to share here. Based out Selden, Intransit played post hardcore that meshed together the sounds of Hum, Quicksand, and Jawbox. It was a shame that were together for only a short period of time as their songs were just fantastic and furthermore unless my memory is way off there were a few songs that they were playing around the time this cdep came out were never recorded. The live track on this ep, "Crying For Satire" was one of my favorites and as far as I know this is the only recorded documentation of the song. If I am wrong and if there was a unreleased batch of songs let me know as I'd love to here them.
A funny (well funny to me) story about this cd is that it was being pressed at the same time that I was pressing the On the Might of Princes
The Making of a Conversation
cd and the local pressing plant where I was doing the cd called me up and informed me that my cds were ready for pick up. A friend and I headed down there to get them. When we opened the box in the office what was in the box wasn't On the Might of Princes cds but in fact were this Intransit cd. So I was bummed that my cds were in fact not ready but I was stoked to see that Intransit had there cds done and ready to share with everyone. And honestly even though many years have passed, I am now excited once again to see Intransit's awesome tunes be shared with everyone. Now I shall work on getting the demo tape ripped and uploaded for everyone to enjoy. Also if anyone is interested in this cdep I still have a couple of copies in my distro.
Intransit "s/t" cd track listing
1. "Without Sickleave"
2. "Instrumental"
3. "Netself"
4. Crying For Satire (live at CBGB's)
Download Here