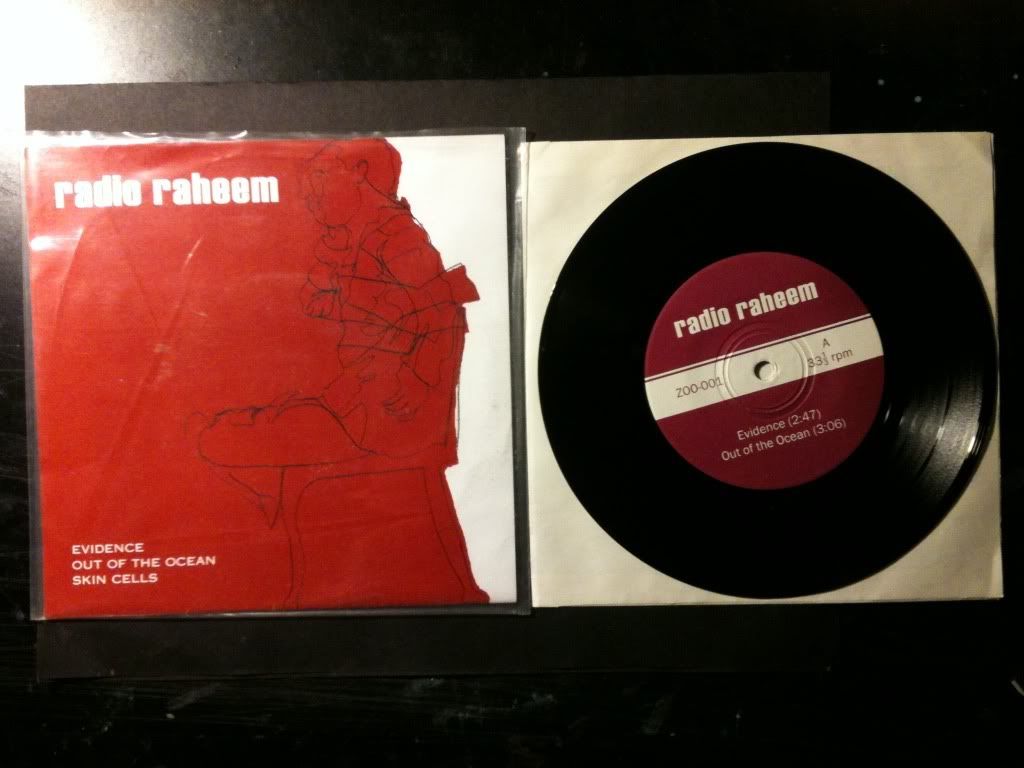 In getting vinyl ripped for this blog I don't think there was a 7 inch that I was more excited to share than this release but with that being said it has also been the most maddening release to rip. I say that because I have ripped it several times and I can't get it to sound exactly right. I am not sure what is up but no matter how I rip this the sound quality is far more distorted than it should be which just annoys me. But at the end of the day I just want to share this great music and perhaps latter on when I am more patient I can do another rip. Or perhaps if someone from the band sees this they'd be kind enough to upload the original files. So before the hate mail comes in, trust me I tried and tried to get it to sound better but alas...
Anyhow enough with the tech talk let me just say that this 7 inch is one of my favorite 7 inches ever. Period. And the band responsible for these three great songs is a band that I miss dearly and maintain that Long Island never showed enough love for. Seriously shame on you Long Island. Radio Raheem were a post punk trio from Quogue which is in eastern Long Island and I first came to know of them when Yes Sensei played a show with them in our friend Jenn's back yard. Myself and the rest of the guys in Yes Sensei collectively let out a "fuck yeah" as almost two years of being the black sheep if you will of local shows here was a band right before our eyes and ears who played our type of music. Radio Raheem reminded me of bands like Unwound, Rodan, Crownhate Ruin, Kerosene 454, Shellac, etc and they were anchored by a incredibly taut rhythm section that consisted of persistent and on point drumming of Phil Sutton which around was wrapped the low end rumble of Ryan McCoy. And topping it of was the discordant guitar of Michael Fredrich who wrote lyrics that tended to reside in the dark, introspective side of things and were delivered in way that reminds me of a cross between Steve Albini and Nick Cave. Almost instantly Radio Raheem not only became my favorite band on Long Island but a relationship with them and Yes Sensei was forged and was maintained throughout the tenure of both of the band's lifespan.
The band had a cd-r demo (which by the way if anyone has PLEASE, PLEASE send it my way- I need "Aloha" on my Itunes in the worst way) out and then they issued 500 copies this three song 7 inch. Sometime later they issued a split 7 inch with another great Long Island band whom I have shared here, Knox Overstreet. At some point like 2002-2003 I coaxed them into letting me do the band's then forthcoming full length release on Rok Lok. I was excited but lots of stuff happened- the band was touring and trying to write a definitive work but also grow and stretch away a bit from the more aggressive post punk sound of their previous releases. They started to record the album but the recording was marred with numerous problems like computers crashing and glicthing which eventually led to a considerable portion of the recording being lost forever. Additionally, myself on the label front I was still really kind unorganized with doing a label. Fuck I didn't even have a computer (this still amazes me that I started the label 1998 and didn't own a computer until 2004) and I definitely wasn't properly equipped to promote a release they way they were hoping to promote their album as I was still doing things the old school way which at that point wasn't helping anyone. So understandably at that point I think the band rethought what they were going to do with their band and their album. Eventually, the band re-located to Williamsburg and started to cement itself quite a following. They soon buried the Radio Raheem name and renamed itself Rahim and signed to French Kiss Records. And they left behind the basement recording set up to work with J. Robbins to record the
Jungles EP
and then again
for their first full length album
Ideal Lives.
As Rahim some elements of its former self were still there but for the most part they wer starting to draw more influences from dancy post punk stuff like Gang of Four and Q & Not U as well as stuff like Blonde Redhead and the outcome was marvelous. Both
Jungles EP
and
Ideal Lives
are masterful albums that showcase truly poised and mature song writing while still being very exciting. As a friend and fan I was really excited to see them achieve such a creative high point, and above all be recognized for their work. Eventually McCoy left the band and some new folks joined the fold and they self released a 7 inch called
The Same
which would be a precursor to their final album
Laughter
which came out on Pretty Activity Records in 2008.
Whether under the name of Radio Raheem or Rahim the band always delivered music of an extremely high quality that was well thought out yet still felt natural and unforced. And on a personal level not a thing changed about the guys in the band even when they signed to a known indie label who certainly at the time definitely had some hype about it. Unlike other bands who have over the years transplanted to Brooklyn, Radio Raheem/Rahim always remembered where they came from and never scoffed at coming back to play Long Island. They never put up some sort of goofy front like they were too big or cool for that. Shit, they even looked out for old friend's bands over the years when they could. Several times they went out of their way to invite a very ramshackle and decidedly unprofessional Yes Sensei to play shows with them when I am certain their booking agent must've been displeased but regardless they always did what they felt was right and what they wanted to. I have nothing but respect for the band collectively and individually. I highly recommend that you try and track down whatever Radio Raheem or Rahim material you can find, as it is all exceptional.
Radio Raheem
s/t
track listing:
1. Evidence
2. Out of the Ocean
3. Skin Cells
Download Here
And as a bonus here is a Radio Raheem video of the song "Evidence" that I just came across