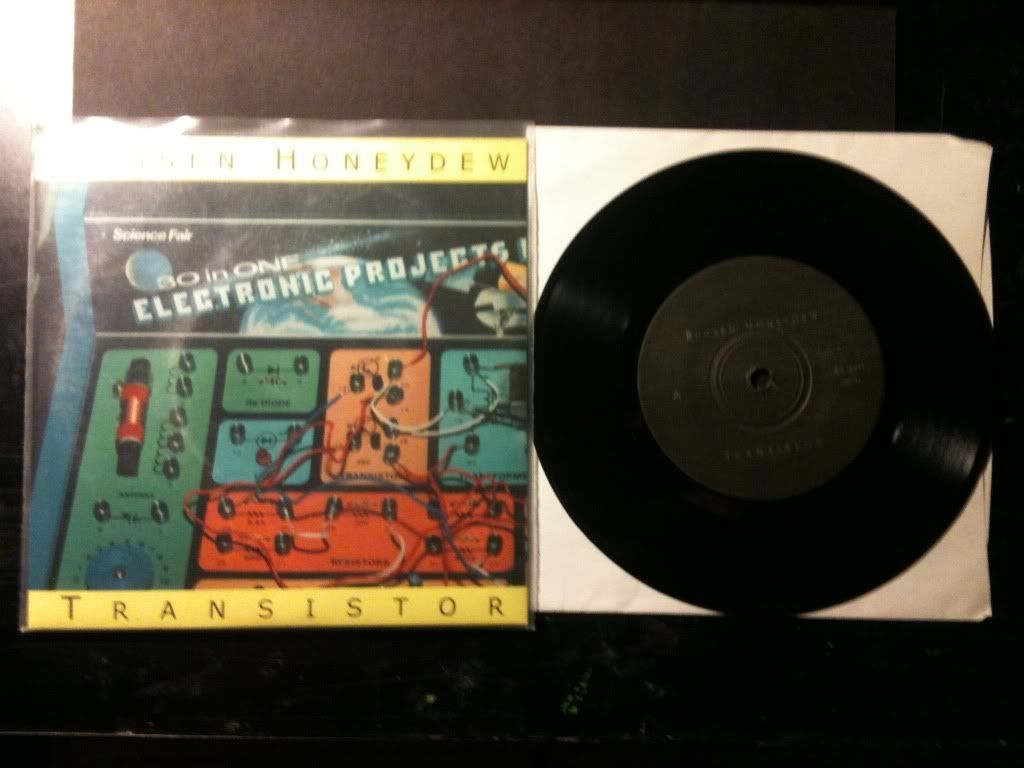 I'd hate to start out a post about a band whom I loved a great deal negatively but for the life of me I can not understand why the drums are barely audible on this 7 inch. I thought it was the rip I did as it had been sometime since I actually spun the vinyl but holy shit on my stereo spinning the the 7 inch again I was asking myself what happened to the drums. It seems as if on the the 7 inch all that was captured was the treble happy, noise overdose guitar sounds that were the band's trademarks. And for anyone who saw Huntington based Bunsen Honeydew back then can certainly attest that the band was blisteringly loud. Still to this day I have very seldom come across a band as loud as Bunsen Honeydew were. But in addition to the wall of shoegaze, Kevin Shields worship that the guitars spewed from Brain Rayman and Danny Tieman, drummer Theo Cateforis propelled the songs to even greater volumes with his awesome, heavy handed drumming. All while bassist Lisa Cuomo anchored the madness with a rich and fluid sense of low end melody. Anyhow I am getting ahead of myself...
I first became aware of Bunsen Honeydew when I struck up a online friendship with Bunsen Honeydew guitarist Danny Tieman back on AOL chat when I was trying to find musical kindred spirits on Long Island back in the late 90s so that I could start a band. Back then trying to find folks who like bands like Pavement, Sebadoh and Sonic Youth was a tough sell when trying to start a band so naturally I gravitated towards Danny when he told his band "made a bunch of noise with their guitars". I liked the sound of that. And when Bunsen Honeydew played Cedar Beach I was finally able to see them and confirm that yes, I like the sound of that. In fact I REALLY liked the sound of it. Coincidentally, that show was also featured On the Might of Princes and it was the first time I saw them play. Man what a great night that was.
Bunsen Honeydew played noisy guitar shoegaze/mod indie pop that was influenced by bands like Television Personalities, Ride, My Bloody Valentine, and The Pastels. Even an element of The Buzzcocks can be detected at times. They generally traveled outside of the Long Island DIY community but they certainly played shows on Long Island, and played places where there were DIY shows happening. I booked them a few times at the spots like The Mod Center, Roadhouse Pub, etc. And each time they were louder, louder and louder. Anytime they played myself and Tommy Orza (from OTMOP) would buddy up and make the trek. Tommy even would constantly play in his car this tape of recordings of theirs that he wasn't even supposed to have. I think the band didn't like it or something but Tommy coerced Lisa to make him a copy or something like. Regardless, he'd never make me a copy no matter how much I pleaded so I was just content to hearing the band's music in his car. And I think in nut shell I think that was my biggest issue with Bunsen Honeydew, getting their music in a tangible form was next to impossible. I fucking loved the band's music so much but I would even know that records came out. Generally speaking most of their music was released over seas on small boutique indie labels. Even Graham Coxon of Blur released the
Didn't You Used to Be Invisible?
on his Transcopic Records label. In fact just recently I discovered that the band released
Modern Gal
as a 7 inch on the Little Teddy Records label out of Germany. Frustrating that I have to hunt down records from a band that I followed as they were active years after the fact. In a way though it is kind of funny and probably very telling of why most people on Long Island never heard of the band.
Back to the issue at hand the
Transistor
7 inch which was released on Bumble Bear Records in 2000 features the title track which is a noisy, hypnotic shoegaze romp that mimics Ride at their best while the b-side "Tiny for Louis" is a ambient, shoegaze drone piece that recalls moments from My Bloody Valentine's
Loveless.
Beck even had a copy of the 7 inch as it appeared in a stack of his records in a photo that went along with a interview he did for Vanity Fair.
The bonus track that I have included "Modern Gal" was included on
The Hope Machine
compilation that I put out and honestly I do not know if this is the version that appears on the
Modern Gal
7 inch on Little Teddy. Something tells me that it is not. The band was eventually issued a cease and desist by Jim Henson's people and the re-named themselves Four Volts shortly before drummer Theo Cateforis left the fold. They issued a album called
Triple Your Workforce
on Kanine Records. Lisa Cuomo moved on shortly thereafter and the band continued on for awhile before folding and moving onto other projects. You can check out Four Volts
here.
This is definitely one of my favorite bands from Long Island but I just wish I had better audio documentation to share. In any event check out this out and who knows maybe someday I'll have the time to find some Euro distros where I can import their other releases and eventually rip those. For those interested I do have a couple of copies of this 7 inch remaining in my distro.
Bunsen Honeydew
Transistor
track listing
1. Transistor
2. Tiny For Louis
from
The Hope Machine
1. Modern Gal
Download Here