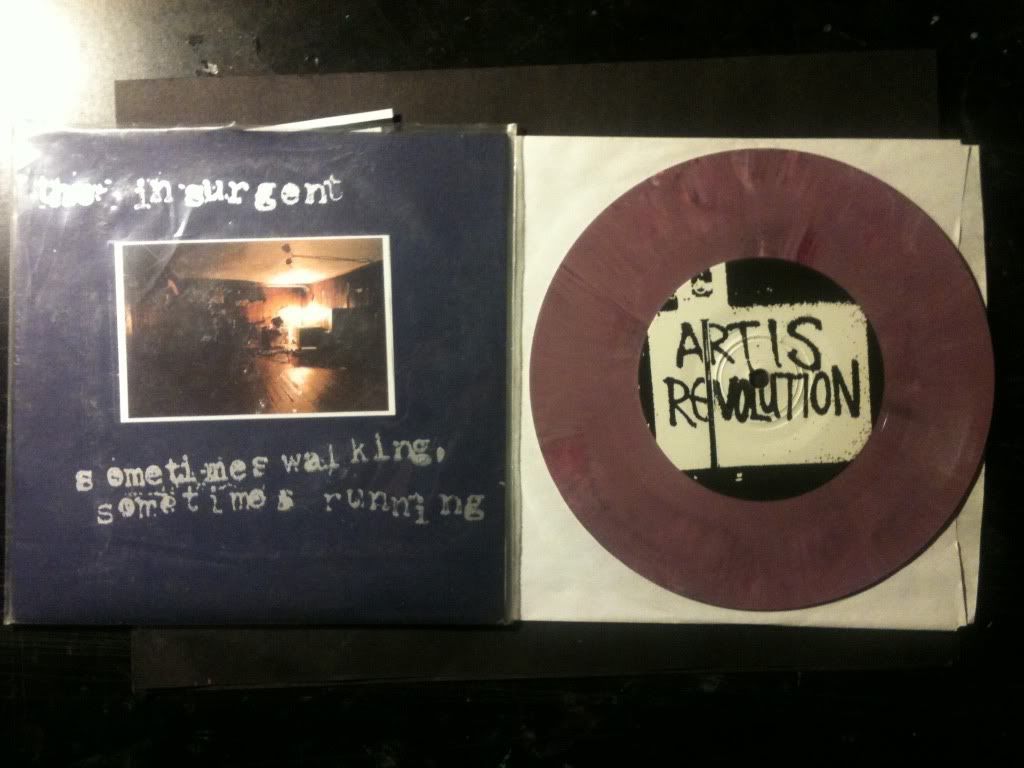 When I look at this 7 inch outside of the memories of wonderful music both bands created and how the label that released this influenced me a great deal, what I think of most was the vibrant basement shows that marked this era of Long Island DIY for me. The cover of this 7 inch is a picture of a room that I am sure looks familiar to anyone who went to DIY punk/hardcore shows on Long Island in the late 90s/early 2000s. The picture is no other than the basement of "Ren's House", one of several DIY show spaces that Long Island in that time period. Ren, who played guitar in Sometimes Walking Sometimes Running, and his family allowed their home to be opened up for youths to congregate and make a racket but above all a safe place to express themselves. Every time I went to a show there it felt special. Some of the best shows that I have went or been a part of have taking place in that room. When Latterman went on hiatus after
Turn Up the Punk We'll Be Singing
guitarist Phil Douglas played the show in a bear costume. It was just always great. And generally speaking that was the vibe of Long Island at the time as house shows were very prevalent; from Ren's house to The Vargas House, Ryan Woodhull's house, The Hobo House, and a few other that come to mind. It all had a very powerful effect on me and I feel very fortunate to have been a part of something so organic, creative and liberating. These days it seems like the only cats doing house shows that I know of are the folks at Dead Broke.
Anyhow the music on this split 7 inch are two bands that I have posted about prior. The Insurgent play anthemic pop punk with a emo flair that is one part Crimpshrine and one part Rites of Spring. The one song that The Insurgent contributes may be my favorite song of theirs. And on the flip side Sometimes Walking Sometimes Running played chaotic, noisy hardcore screamo that was like City of Caterpillar, Pg.99, etc.
The Insurgent/Sometimes Walking Sometimes Running "split" track listing
1A The Insurgent "Miles to Go"
1B Sometimes Walking Sometimes Running "You"
2B Sometimes Walking Sometimes Running "She Won't Kiss Me Because I Smoke and I Smoke Because She Won't Kiss Me"
Download Here