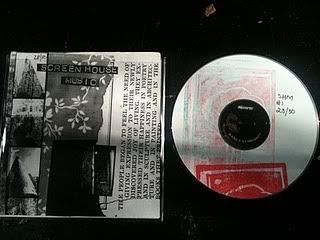 Even though it wasn't that long ago 2006, I definitely recall that as a year where I seriously thought that nothing in music could surprise or excite me any longer. Of course that was a narrow view because I was solely basing this opinion on that fact that it seemed as if I was getting at least a dozen crappy band friend requests a day on Myspace. And don't even get me started on the tons of the uninspired music I'd have to review for
Under the Volcano
or even get as demo submissions for Rok Lok. As awful as it sounds at some point I didn't even want to open up friend requests and I am not sure why one day I felt compelled to open up one of those said requests, but I am glad I did because that was the day I discovered the wonderful gem that is Screen House Music. Immediately, I was blown away by the sparse looseness of the songs. There was a lo fi folk/ambient/experimental thing that reminded me a lot of the stuff that I grew up listening to like the whole Shrimper Records cast of characters like Paste, Dump, Simon Joyner and Will Simmons. The one song that stood out and I proceeded to play another 8 or so times straight in that one sitting was the tune "On Our Cameras"-it just blew me away the way the song builds and doesn't get hooked into a specific phrasing or chord too long but just long enough to have it sink its melodic teeth into one's ears-just seriously smart and mature songwriting but very organic sounding. The arrangement of a field recording of friends party like chatter in the background and how it switches from a acoustic guitar progression to a reverb happy electric guitar and percussion as well some wavy background sounds is nothing short of sublime. As corny as it sounds something about this song makes me feel young and in a good way. But the reality is that there is something great about every song on Screen House Music's
Volume One.
My thought is someone from Long Island making this type of music and I am not aware, how can this be?
After listening to all the songs multiple times and specifically "On Our Cameras" and singing the praises of Screen House Music to just about everyone who was within a earshot of me for the next 48 hours or so, I decided to send a message directly. I soon learned that Screen House Music was the project of Northport's Nicky Marino and we started trading emails back and forth. Eventually, snail mail transactions took place where he'd send me more Screen House Music recordings as well as other stuff he and his friends would do while I'd send him label releases including stuff specifically from my own 4 track project Stars Are Insane which I felt was somewhat similar to what he was doing with Screen House Music. With each release of his I was blown away at the maturity of the compositions, level of looseness and just the overall aesthetic. And to me I was amazed at how all of this great music was being written by someone in high school.
I have remained intrigued with the project and over the years I have done my best to follow what Marino is up to creatively. He self released the sophomore cd-r
SHM2
but
Positive
cd-r and
The Story of Man
cassette both came out on Life On a Island. A cassette (which sadly I have yet to hear/obtain) called
On the Roof
came out on Open Range Records. Last but not least I have finally been able to have the good fortune to be able to release some Screen House Music on my label with an upcoming appearance on the
I Know Why They Call It Pop
cassette. And from what I understand new material is being worked on which is just thrilling. Keep up with Screen House Music
here
. Additionally, Marino plays guitar and sings in the fantastic band
For Serious This Time
who I urge everyone to check out.
Screen House Music "Volume One" track listing
1. "Everyone's Unsure"
2. "Layer One"
3. "Layer Two"
4. "Layer Three"
5. "Next Season"
6. "On Our Cameras"
7. "At Friends Houses"
8. "Conclude"
Download Here