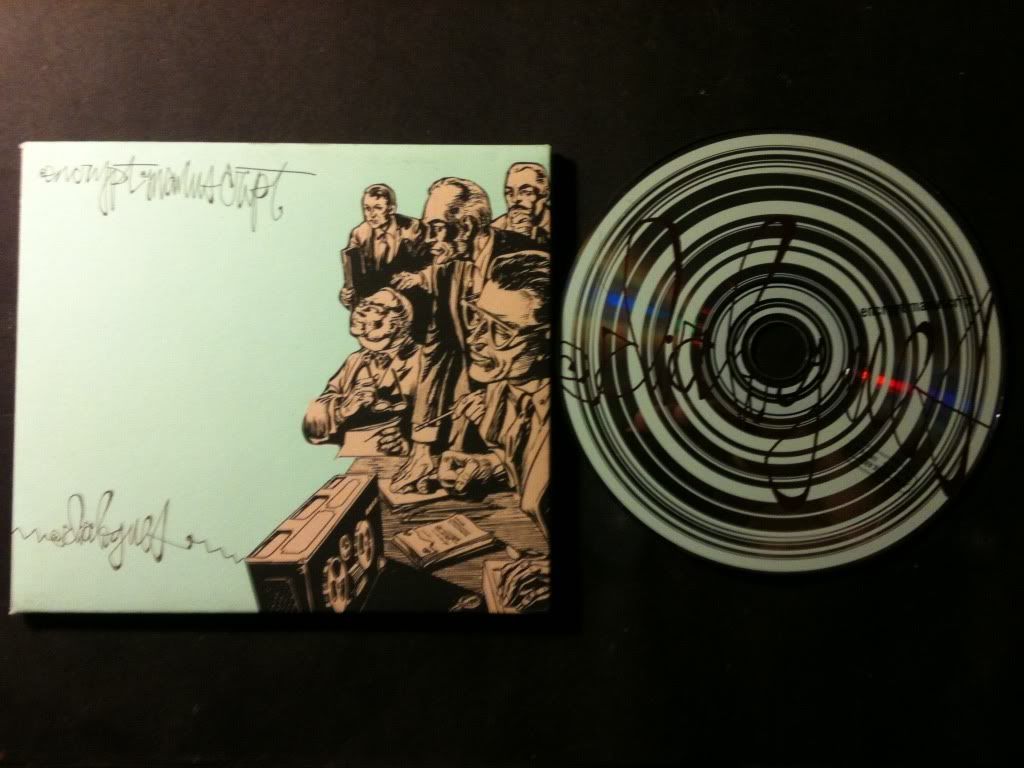 Today's upload comes courtesy of Encrypt Manuscript who burst onto the scene displaying exceptional, kinetic musicianship and a front man that had, as they say, a flair for the dramatic and with those things combined Encrypt Manuscript quickly became a formidable live band. Their music was a brand of high energy, math-y post hardcore that experimented with jazzy parts from time to time.
Dialogues
is the debut release from this band who as I stated in my
previous post
about their 7 inch, Encrypt Manuscript were a band that in my opinion didn't release enough material in their tenure as a band. Their releases progressively got better and better.
Dialogues
is a fantastic document of a very talented band finding its footing, and while it is a good document I do believe there are some steps along the way that feel a bit awkward when stacked next to their more or less flawless 7 inch and
Census
full length. Still Encrypt Manuscript lay fantastic framework of what to expect on future releases and even more so set the stage for their live show with a blistering At the Drive In meets Make Believe approach post hardcore. This is also the inaugural release on The Tone Library Collective label who released quite a few cool things in their short time releasing music including music for Rachel Jacobs, Empty Silos Echo War,
The No Nucleus
comp and of course material from Encrypt Manuscript. One of my favorite aspects about Encrypt Manuscript is that they seemed to appear almost randomly. They didn't play shows every weekend and like I said only had a handful of releases during their tenure as a band. So I guess what I am saying is that when they played it seemed all the more exciting. It was like "hey remember us?" and then you got floored. Seriously.
Encrypt Manuscript
Dialogues
track listing
1. Riot Cop Fox Trot
2. The Dead Sleep Here/Theme For Seagulls
3. Parabola Modes
4. How Do You Syllabicate Your Name?
5. (Re)consider The Hysterical Consortium
Download Here